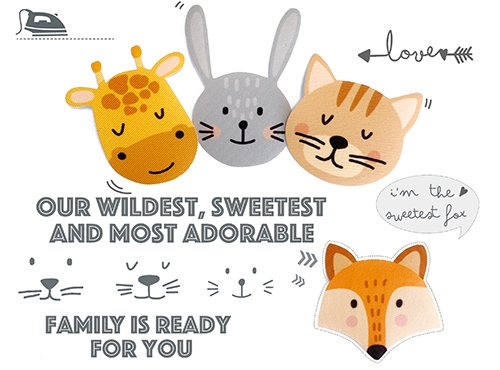 The Spring 2021 collection is full of life, especially for those who want to create, imagine, have fun, vindicate themselves with style or just want to give their garments another look.
This funny family of iron-on patches is sweet, it's wild, it's adorable, and it's ready to be applied to your favorite garments.
Iron-on engraved suede textile labels, iron-on woven labels, iron-on printed patches and iron-on printed elbow and knee patches.
The iron-on engraved suede textile labels have a very diverse range of colors: pink, pistachio green, natural leather, fuchsia, gray, orange, blue or red. Colors that are new to our collections.
Iron-on patches or applications printed with charming animal faces, colored butterflies, youth textile labels and iron-on patches or motifs with aesthetics of video games, skateboarders and urban culture.
Iron-on printed elbow / knee patches with fruit and flower motifs in bright but soft tones that acquire a fresh, bright and serene Mediterranean character.
More classic style for iron-on woven labels, with rather dark colors and balanced design to decorate or repair garments in a discreet way.
This collection of iron-on patches is incorporated into the existing catalog of iron-on textile patches or labels, which can be visited in the download section of the website.