Elbow, corduroy and imitation leather thermo-adhesive elbow pads/knee pads (for sewing)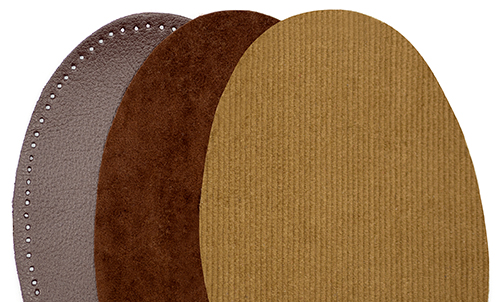 We have several types of elbow/knee patches with the aim of offering an attractive and useful catalog to everyone´s needs. Apart from the regular iron-on elbow and knee patches we have iron-on patches of different materials. We also have imitation leather elbow/knee patches but these are for sewing, they are not thermoadhesive and therefore cannot be ironed.
Suede thermo-adhesive elbow/knee patches are softer with a velvet texture to apply wherever you like, especially recommended for tracksuits or also to provide a specific and different quality to denim garments, both sports and fashion. With a colorful of more than 15 colors and a 100% polyester composition.
Corduroy elbow patches/knee patches are ideal for repairing garments made with this fabric or to repair/decorate any other type of piece you want. With a colorful of more than 10 colors and a 100% cotton composition.
The imitation leather elbow/knee pads have holes around to sew and are not thermoadhesive. Available in 7 colors and its composition is 86% PVC/14% Cotton.