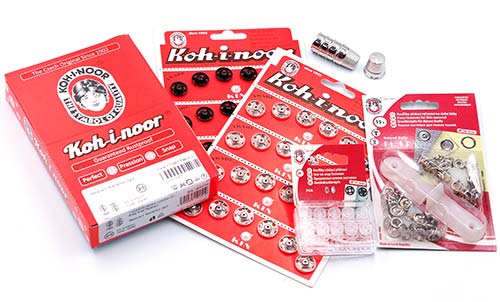 Our Koh-i-Noor brand items are items mostly related to garment fasteners. In the LECCO catalog we have the classic buttons known as snap fasteners, which are the popular click-type fasteners.
We also have hook and eyes a comfortable and easy to apply fastener system to make the use of our garments more pleasant. Other items such as eyelets with washers are ideal for repairing or decorating jackets, sweaters, pants, etc.
All these items of the Koh-I-Noor brand are highly appreciated for their great quality. Most articles are in nickel and black color and some are available in colors such as silver and also in old gold.
Other accessories apart from the classic fasteners are bikini fasteners, safety pins for children or thimbles.