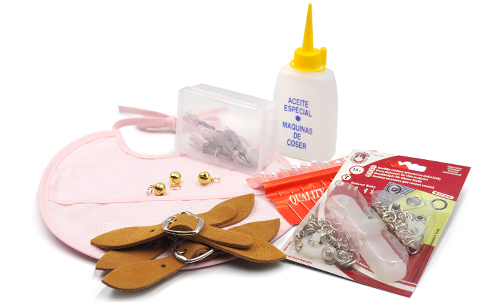 LECCO offers different types of accessories within the world of haberdashery, garments and crafts. There are 4 categories of products according to their nature: Koh-i-Noor brand accessories, elastic knitted articles, textile accessories and other accessories.
The Koh-i-Noor brand is highly appreciated in terms of items related to garment fasteners, from popular automatic or hooks and eyes to eyelets with washers.
We have the elastic knitted cuffs and waist in two different formats and qualities. The classic cuffs and elastic waistband, in 100% acrylic. And on the other hand an elastic strip of 110 cm with colored stripes and a composition of 100% cotton.
As textile accessories and crafts in the LECCO collection we find items for embroidery, aida fabrics, bibs or bags both to carry clothes and to bring breakfast or snack. Other accessories to our catalog are items such as measuring tape, pins, sewing machine oil, jingle-bells, etc.