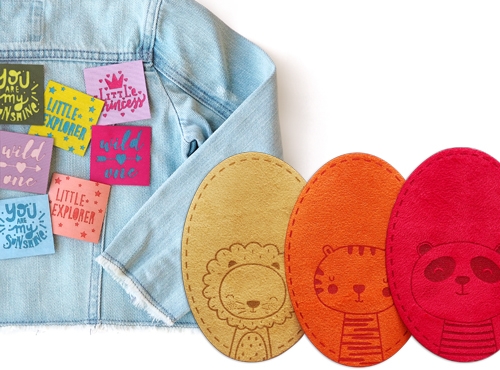 LECCO presents the new Spring-2022 collection, made up of 11 collections of iron-on applications with very different themes, textures, colors and shapes.
We present a new thermo-adhesive application proposal formed by the combination of two different die-cut fabrics, achieving a fun and colored visual appeal. They are double layer thermo-adhesive labels with very spring and refreshing colours.
Another novelty in the range of engraved suede is knee patches with bright colors engraved with fun silhouettes of the animal world. Red, fuchsia, pistachio, orange, turquoise... combined with irresistible giraffes, tigers, zebras, pandas or lions.
In the new collection there are 4 proposals for printed iron-on applications or motifs. Some flowers of different shapes and a varied color palette that goes from yellows to lilacs passing through pinks. Casual and youthful designs that invite us to optimism and smile, youthful, modern, sporty and urban labels. Applications for lovers of nature, outdoor sports and alpine family fun activities.
Three collections of sporty, youthful, modern and discreet iron-on woven labels. Predominance of grey and navy tones with colored details that give them an extra appeal while remaining balanced.
New proposals for iron-on embroideries, very discreet small labels combining black or grey in different textures and a very bright, cheerful and spring-like collection of butterflies.