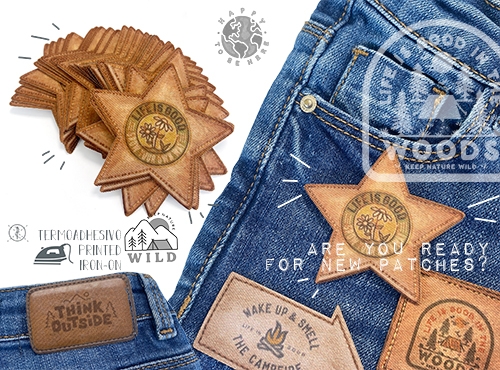 The new LECCO September-2022 collection is made up of 10 proposals for varied and original thermo-adhesive applications.
The new iron on engraved suede elbow and knee patches with Kashmir motifs on grey, blue, green, khaki, etc. backgrounds. They form a surprising and elegant collection ideal for decorating clothes in an easy and comfortable way and give them a new original exotic air.
We also present other thermo-adhesive elbow and knee patches, these are printed with youthful designs inspired by the world of skates and skateboarding, in shades of grey, navy and lilac, and with casual and modern prints to decorate all types of clothing and accessories.
As for the applications or iron on labels, we have decided on attractive and imaginative themes so that you can apply them where you like the most and your clothes will look nicer and different. You will find labels inspired by nature, others in sports or unicorns, trail running or bicycles.
As for the printed thermo-adhesive labels, we have mountain and hiking applications, others inspired by the college aesthetic on plaid backgrounds, and labels that imitate the texture of leather with natural motifs.
The iron on unicorn fabric labels in vivid and bright colors help us to imagine and be creative. The others with trail running inspiration are sporty and modern at the same time, and more discreet. And finally, the thermo-adhesive woven bicycle labels, in navy and grey colors combined with yellow, orange and red.
The thermo-adhesive embroideries in the collection are inspired by sports such as football, basketball, volleyball, paddle tennis or tennis. Small iron on applications in attractive and refreshing colors. And to finish we present some thermo-adhesive embroideries on jeans combined with reds and ecrus forming original, discreet, and balanced labels.