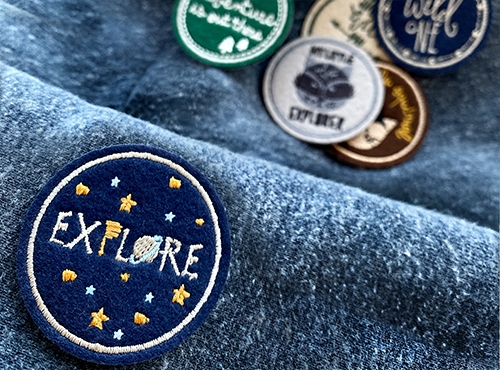 New collection of thermo-adhesive applications to start this season with new designs and new proposals for repairing, decorating or customizing garments or accessories.
We present new lines of iron-on products in different qualities and finishes: engraved suede, printed or silkscreened labels, woven labels and embroideries.
Engraved iron-on pads inspired by the skins of some animals, like zebra, snake, tiger or crocodile skin textures. Elbow or knee-patches that combine very well with all types of garments, especially with shirts, sweaters, jackets and pants.
Engraved suede labels give a more natural texture and combined with environmentally-related themes and arts and crafts ideas are able to surprise with modern and classic applications.
Among the various proposals for printed and screen- printed thermo-adhesive labels we have developed a collection inspired in denim textures that plays with the traditional textures and colors of jeans.
Iron-on labels provide the sportiest aspect of the collection, with football and basketball inspired applications and mountain sports themed applications.
Thermo-adhesive embroidery new collection is more involved in fashion and trends, with colorful, daring retro and modern designs at the same time. As a new addition to the embroidery range, we incorporate a collection of fun designs with a felt base.