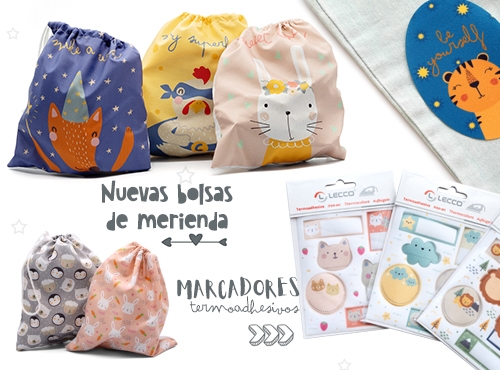 At LECCO we are ready to go back to school with new proposals for iron-on articles and snack bags, to help make the beginning of the season easier and funnier. For this purpose, we have incorporated a new family of animals to the new collection of iron-on products and snack bags to easily identify and repair or decorate garments.
The iron-on printed markers will help children to recognize their garments thanks to the thematic designs of each model. They can be iron-on printed labels related to bears, lions, tigers, etc.
We incorporate 6 alphabet kits of letters, numbers and symbols in 6 new colors: red, lilac, khaki, yellow, green and navy. They can be used to identify clothes with names or initials as well as to decorate by making funny and imaginative phrases or names.
Twelve new models of snack bags printed with animal motifs. On one hand, six bags that share the design with the markers to be able to go together. And on the other hand 6 very different designs of animals to choose the one you like the most.
The iron-on patches and the iron-on elbow or knee patches share the same designs as the snack bags and the iron-on markers, thus closing the circle of this great family of animals to return to school in good company.